Mohair Quality
Mohair is only the fibre from angora goats known for properties of durability and comfort. Mohair is officially recognized around the globe, as a "Fine Animal Hair". We have chosen to specify "real mohair" along with the percentage of all fibre content(s) since many cinches being sold simply as "mohair" have been shown to have little or no actual mohair present.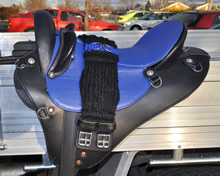 Within the fibre industry and international trade, the word "wool" specifically identifies the fibre from sheep in general, and provides no requirement to distinguish between the vast differences in quality of fibre in various sheep species. Wool therefore, as described, does not enjoy the status of "fine animal hair".
Traditional cinch cordage of 100% mohair has been made from the coarse, adult hair, while the 96% mohair is made using a softer, young Angora goat hair with 4% high quality New Zealand wool included to assist in retaining the preferred yarn consistency during processing. Field tests have shown the choice of high-quality wool to respond as well as the 100% mohair while use of low-quality merino wool, as is commonly used in blends, substantially diminishes the favourable attributes of mohair.
Testimonials
Hi Margy,

Thank you so much for the beautiful girth you made for my partner Dan's horse Maverick. He did his first 40km endurance ride on Sunday and did wonderfully AND no rubbing, chaffing or galling.

Thank you again for getting it to us so quickly. We will definitely be telling anyone where we got our beautiful girth. We will definitely be ordering more in the future. Pictures to follow and I will post some on your FB page.

Thanks again

Kellie
'I love my Cinches Down Under Hand woven Roper Style Girth.

It fits my horse and means that sweat does not irritate him as his skin can breathe through the natural mohair. I had been looking around for ages for such a girth to fit an English style saddle. They look great on the western saddles and are made for that rigging. But I had never seen anything like this available for the English style saddle- with 3 girth point buckles. So Margy took my measurements and fashioned a buckle to fit the girth points as well as hold the woven tied mohair cord to effectively look like a western roper girth.

Then the colours were chosen. Margy gave me such a large range to look at and followed this up with a lot of conversation back and forth to get the right mix that would look the best. Even going to the trouble of sending me a girth she had made along the lines of what I wanted, so I could see how it would work and look.

The result is wonderful, the design and colours look great on my horse and with his gear. The buckle system works well with the English saddle points and is secure, beautifully crafted and the length fits well. He is comfortable and the extra width of the Roper Style means the pressure is spread over a wider area of his belly.

Thank you Margy, this is one of my favourite pieces of tack.'

– Carolyn Hill
Margy sure makes a sharp looking Mohair Cord Girth. The custom girth, she made to the specific requirements of my saddle, is completely to my satisfaction.

The quality and consistency is exceptional. I like the fact that the girth is made of 100% all natural products, and as often as I use my saddle, my horses have never galled nor has my saddle ever slipped or rolled.

Yours sincerely, believe me

William Adam
My cinch arrived today and I am really pleased with it. I will order another one off you tonight just a bit longer. It did not cause the mare any problems so that was great.

Nat, 1/5/12
I also highly recommend the mohair girths. Promise (my problem child) gets very sore thoracic serratus muscles around her girth and they become swollen and tender after longer rides. Nothing at all after Toongabbie!!! She is not swollen or sore and no flinching when touched.

Jenny 3/5/12